LYSDC's Advanced Technology
3 Dimensional Scanner (CBCT)
The ability to take a 3 dimensional image is truly ground breaking technology and it 100% leads to a higher quality of care. The information gained by being able to see teeth from multiple directions takes so much of the mystery out of dentistry. When discussing traditional x-rays with our dentist, most of us have heard our dentist say "it's a two dimensional picture of a three dimensional object." What does this mean? It means that there is a great deal that is still unknown with traditional x-rays. With a CBCT you will have:
Improved diagnosis
Dental implants are quicker, safer and more predictable.
Better root canal treatment
More treatment completed at Love Your Smile Dental Center.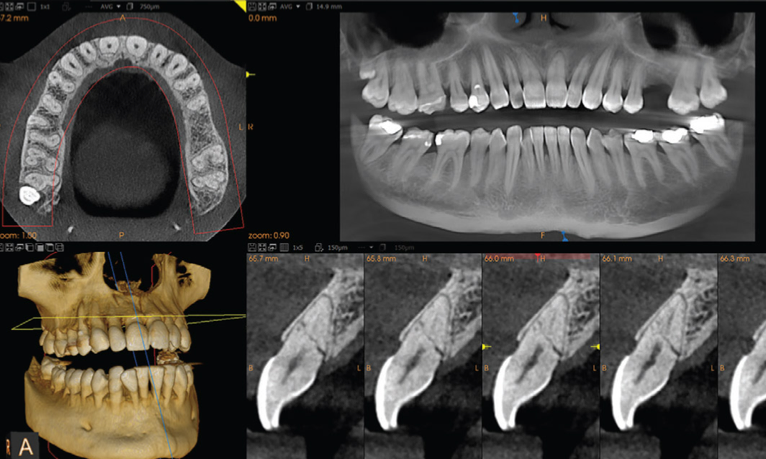 Intraoral Photos
Trust between a patient and a healthcare provider is sacred. But let's face it, there is a "Doubting Thomas" somewhere inside all of us. Intraoral cameras allow us to take a picture of your tooth, so you can see your 10mm tooth on a 40 inch screen! Nothing facilitates an understanding of your dental condition like seeing it first-hand. The beauty of using a camera that can take a photo of any tooth anywhere in your mouth is that: if we can see it, you can see it!
Transilluminator
Transillumination is essentially the same thing that happens when you shine a flashlight on your hand. In dentistry, we turn the lights down and use a special device called a "Transilluminator" in order to identify cracks and cavities without using any radiation at all! This powerful tool helps in a huge variety of situations and can help you avoid extra X-rays.
Dental Vibe
This unique and cutting edge device makes getting numb, that much easier. The soft tip rapidly vibrates the area where you are getting numb and confuses the sensory nerves. If you were lucky enough to have a dentist to wiggle your lip or cheek when getting you numb, the Dental Vibe accomplishes this in a much more effective manner.
Digital X-rays
X-rays are helpful in seeing the areas that we otherwise cannot see. They allow us to see cavities between teeth, bone degeneration and infections, just to name a few. Digital X-rays have the added advantage of exposing patients to a fraction of the radiation than traditional x-rays. They allow for much easier communication with other dental providers and the result of the x-ray is instantaneous, which makes your visit quicker and more efficient. They also show an image that is large enough to share with patients. We understand that not everyone spends their day looking at little black and white images of teeth, but there are many situations where digital x-rays help patients better understand their condition.
Nomad Pro2
The Nomad Pro2 is a special x-ray unit that is hand-held. It uses a fraction of the radiation as a traditional wall-mounted unit and makes taking x-rays go much quicker. This means biting on the x-ray for less time, something we can all appreciate!
Paperless Charting and Communication
Using the latest in Patient Management Software allows us to communicate better with patients and take very thorough notes pertaining to our conversations. We also have our medical history and new patient forms available online which will be seamlessly integrated into your chart.
Text and Email Confirmations
Our special systems also allow us to communicate with our patients in the most convenient way possible. Whether you prefer email, text or good old fashion phone call, we are able to help you remember your appointment details and schedule your appointments easily.
Visit Our Tabernacle Location!
Make Appointment or call (609) 388-1101
Our Happy Clients
What People Are Saying About LYSDC
Dr Weber and his staff were excellent. I had a difficult extraction and they made me feel comfortable the entire time. He was genuinely concerned about how I was doing during the entire procedure. I've never had a great dentist, but I do now!
Professional and kind from beginning to end. And I was very pleasantly surprised when Dr. Weber called last night to check on me. What a gracious and thoughtful person he is! Almost took all the pain away 🙂
I went in very nervous and came out very surprised! I had very little discomfort and was very relaxed!! Dr. Weber was very professional and made me feel very comfortable. I would highly recommend him to anyone!